Rockin Mama
My Breastfeeding Essentials
March 23, 2010 by Caryn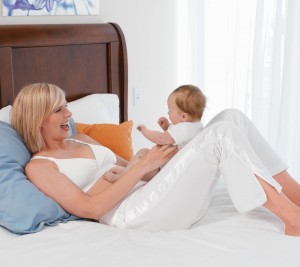 After my daughter and I have stopped nursing, I will have spent over 2 years of my life breastfeeding.  The relationship and bond that develop as a result of breastfeeding is indescribable.  Some of the sweetest moments are at 2 or 3 am when our daughter, who's nestled against me starts to stir.  She really never fully wakes up because I'm right there ready to nurse her.  There really isn't a lot that a mom and babe require to be successful at breastfeeding.  But there are definitely some products I've found to be useful…to make the experience more comfortable…
1.  A Nursing Cover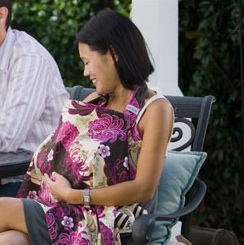 You may remember that I'm still not entirely comfortable nursing in public.  But I do it.  And what helps is a well-made nursing cover (bonus points for those with cute prints). Both of my babies did not like to be covered, but fared better when they could see me.  I highly recommend a nursing cover with a rigid neckline and plenty of fabric (my babies also like to kick the covers off!) like those offered by Bebe Au Lait.
2.  A Supportive Nursing Bra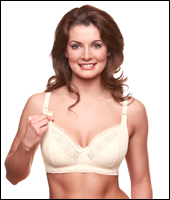 When I first had my son, I struggled to find a bra that fit well (I have odd measurements).  The only bra I found that gave me the support and comfort I needed (without looking like something my grandmother would wear) was by Bravado.  In fact, the very first nursing bra I purchased was the Supreme Nursing Bra (which I still have today).  These days I actually prefer The Body Silk Seamless Nursing Bra.  It looks and feels like a conventional bra while offering the support and comfort required during nursing.  The Sublime Bra is one of their newer bras which helps nursing moms reclaim their femininity.  Lace accents and thinner straps make it look like a beautiful lingerie piece…instead of what it is…a nursing bra. And if you're looking for all of the comfort, style, and support of Bravado's Nursing Bras at a fraction of the cost, check out their Basics line which launched recently at Target stores nationwide.
3.  A Nursing Top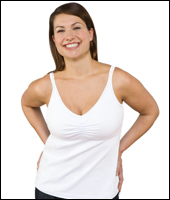 When I was pregnant with my son, one of my good friends (who has much more mommy experience than I d0) encouraged me to invest in a few nursing tops.  After investing in a maternity wardrobe, I was ready to get back into my "regular" clothes.  Wishful thinking right?  After realizing both times that fitting into my pre-pregnancy clothes wasn't something I could anticipate in the near future, I opted for a few nursing tanks.  If you've ever tried to nurse in a conventional top, then you know that it's nearly impossible to maintain discretion, even with a nursing cover.  The Essential Nursing Bra Tank by Bravado has a built-in bra and nursing clips, so you don't have to wear a bra with it (although I do find it to be just a bit low-cut).  It's available in five colors and great for use as a transitional piece.
To read the rest of the article, click here.