Cool Mom Picks
Does a nursing bra equal bliss? Relatively speaking, yes.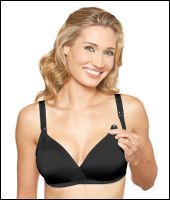 We, like everyone else in the world, have long been fans of Bravado! bras and their well-priced, comfortable nursing bras. But with the launch of their new Bliss Maternity Bra, I think they definitely upped the ante.
I'm a huge fan of soft-cup nursing bras, mostly because they offer fantastic coverage under t-shirts and other tighter fitting clothes, and never scream, "Hey, I'm wearing a nursing bra and a breast pad!" to the world.  But Bravado has added a few extra touches making this a little different than the typical soft-cup nursing bras out there–like the wider shoulder and back straps for you boobalicious breastfeeding mamas, plus their trademark band that gives it the support and feel of an underwire without the actual underwire. Seriously, I had to check it a few times to convince myself.
To read the rest of the article, click here.