Celebrity Baby Blog
Celebrity Baby Blog
4 March 2009
Bravado Designs Debuts Enchanted and Aquamarine
Tags: Fashion & Gear – Breastfeeding, Fashion & Gear – Maternity, Reviews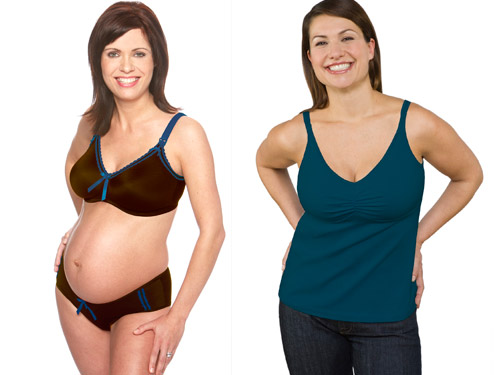 What is it about the color brown being called "chocolate" that makes me want to cover myself in it? Bravado Designs, maker of my favorite nursing tank, is debuting a new color combination and shade for their most popular styles. Aquamarine and Enchanted. The Nursing Bra ($47) and Below-the-Belly Bikini ($15) are available in Enchanted, featuring chocolate microfiber with aquamarine detailing, and the Essential Nursing Tank ($45) will now be available in Aquamarine.
The model on the left is pregnant, demonstrating the value of a nursing bra. You don't need the nursing function of the bra while you're pregnant, but since your breasts grow in pregnancy, you will need larger bras so you might as well buy a nursing bra if you intend to nurse. The nursing tanks also have a long life because you can wear them while pregnant (to a certain extent) due to their generous length and sizing. That's why they're my favorite nursing tank, but also because they are as supportive as their bras — they have a real bra built in, not some sad little shelf.
For more on the full line, read Teba's review.
– Danielle
Posted on Mar 4, 09 at 5:00PM